HOW MUCH DO SOLAR PANELS BOOST HOME SALE PRICES?
---
HOW MUCH DO SOLAR PANELS BOOST HOME SALE PRICES?
It's one of the most popular questions I get ~ "Will solar raise my homes value?"
And the simple answer is yes! There is a growing body of third party data that confirms the addition of solar panels to your home will increase its market value. As early as 2013 when the Appraisal Institute partnered with the Colorado Energy Office to analyze Denver homes sales and announced that "solar photovoltaic systems typically increase value and almost always decrease marketing time of single family homes in the Denver area."
A comprehensive study sponsored by the U.S. Department of Energy and the Lawrence Berkeley National Laboratory in 2015 looked at over 22,000 home transaction. The report concludes that on average homeowners are willing to pay almost $4.00 per watt of solar power. That translates to about a $14,400 premium for 3,600 watt solar system. The study also demonstrates that this increase applies to owned solar as opposed to leased solar. So, not all solar installations produce
Unlike granite kitchens, additional bathroom or even that high efficiency boiler,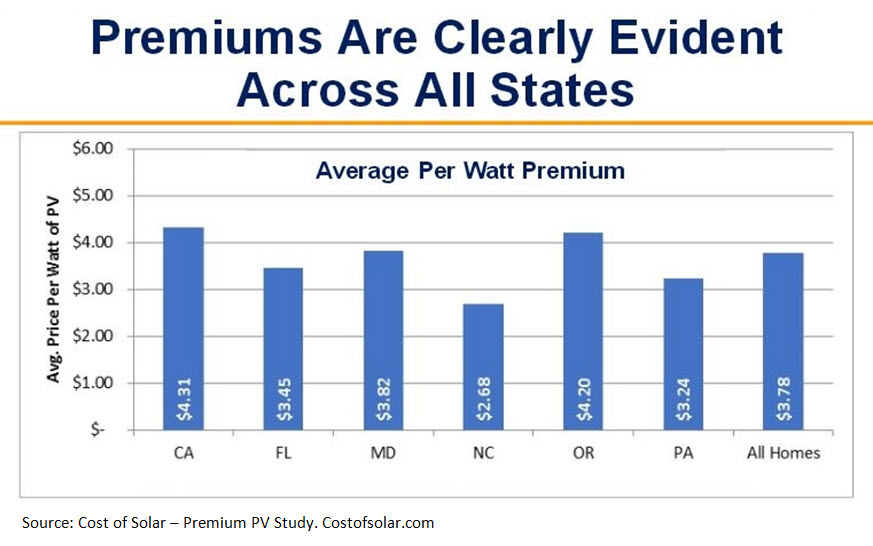 there are no other improvements you can make to your home that will produce such an exacting and calculable increase to the market value of your house.
Why is that? A few reasons…
First, electricity is not subject to style. You use electricity habitually. It does not come in different colors and is immune to fashion trends. In fact the only trends that are followed in the news are how much and how often the price of electricity goes up.
You use it all year round and you use about the same number of kilowatt hours each year. In fact a typical three bedroom house on Long Island uses approximately 10,000 kWh per year. And that is just the way the public utilities like LIPA, PSEG, Con Ed and others like it. Electric power is a commodity. If you could buy your 10,000 kWh of electricity cheaper elsewhere you probably would. And now you can – it's called solar. This brings us to our second reason….
Homeowners can now buy a piece of equipment that effectively eliminates their need for the electric company. Many homes can produce all the power they will need from their own roof, and can do it all year long for 25, even 30 years. There are solar panels that have been in use for more than 30 years already. Since the price of public-utility-supplied power is known, the value and return on investment for a piece of equipment that produces a known quantity of electric power on your roof can be calculated.
If you could buy 25 years of electric power for a 65% discount, but you have to pay up front, would you? Well the home market is speaking and it says yes. Many homeowners have stated that they are equally proud of the positive environmental impact of going solar as they are of the financial benefits.
So why some more than others…..
I think it's the only Latin I know, Caveat Emptor ~ Buyer Beware! As it applies to solar power it would be, Let the Lessee Beware. You see, as the mainstream adoption of solar got underway all across the United States it was fueled by large national companies that were more interested in locking homeowners into 20 year restrictive leases with annual payment increases than it was in providing savings or value. What these companies knew that most homeowners don't is that the greatest financial benefits come to the solar system owner in the form of a 30% Federal
Income Tax Credit (ITC). They leveraged the appeal of environmentally sound, green energy to customers that were hungry for any amount of savings on their power costs. So the large national solar companies need to lease you the system so they can reap the benefits of the Federal ITC.
The March 23rd, 2015 edition of REALTOR Magazine suggests that solar leases can be "Deal Killers" when it comes to the sale of your house. Potential homeowners shy away from inheriting long term payment plans even if there is some proof of savings. Many sellers opt to pay the lease off at time of sale. Some mortgage lenders have even made payoff a condition of closing. It is advisable to read the fine print of the solar lease before purchasing a home with leased solar. The lease often appears as a lien on the property and may interfere with the refinancing of the property.
So far it is safe to say that
There is greater financial benefit to owning your solar panels as opposed to leasing them.
The home buying market pays a premium for solar power production.
Homeowners will act on behalf of the environment if given a monetary incentive.
As more homeowners install solar systems on their homes more will be known about home buyers preferences and what solar provides for homeowners.
These are clearly sunny days for homeowners that have invested in solar energy systems.
Originally posted by Bruce Howard - Energy by Choice